Concerns about 2012 Voter Suppression and Possible Election Theft
After a contested presidential election in 2000 that took more than a month from Nov. 7, 2000-Dec. 12, 2000 for the Supreme Court to decide and until Dec. 13, 2000 for Al Gore to officially concede, an election that some believe was stolen from Al Gore by George Bush's supporters, the issue of election theft became a hot election topic in America. After voters mobilized in 2004 to watch out for possible election theft, after repeated voter suppression tactics, after a 2004 Presidential election where the official election tallies claiming Republican Presidential candidate George Bush won did not match the 2004 exit polls that predicted Democratic Presidential candidate John Kerry was winning, and after the rise of Diebold and other potentially flawed electronic voting machines that do not include paper audit trails, here are some of the concerns about possible 2012 U.S. election theft.
1. The traditional stolen election concerns of voter suppression, voter intimidation, inadequate voting machines and/or longer lines in poorer or urban areas, possible ballot box stuffing in one form or another, etc. Voter suppression of mostly Democratic voters is a standard Republican tactic that the Republicans planned to implement, tried to implement, and only partially succeeded in implementing in 2008. For example, Robert F. Kennedy and Greg Palast write that "In 2004, highly organized GOP tacticians helped disenfranchise no less than 2.7 million American voters. Almost a million of them were African Americans."
2. The rise of Diebold's electronic voting machines, that do not include a paper audit trail. (Who did your election machine vote for?) FYI, after political controversy concerning possible election theft, Diebold Election Systems rebranded itself as Premier Election Systems in 2007 and was sold to Election Systems and Software.
3. The built-in vulnerability of Windows XP and the Internet to computer hacking attacks, including remote control of personal computers. For example, Terminal Services (renamed Remote Desktop Services in Windows 7), Remote Desktop Protocol, and Remote Assistance are all designed to let other people run your computer and they are vulnerable to illegal computer hacking. (Who hacked the election results?)
4. The presence of very sophisticated lawless technical computer hackers with advanced computer hacking technology that are probably capable of at least trying to hack 2012 election results. This webmaster is also familiar with an illegal covert black-ops style U.S. secret police force, known as COINTELPRO or the FBI SID, that might have the technology, the workers, and the orders and/or black ops-style criminal mindset to try to hack and steal primary elections and/or the general election on Nov. 6, 2012. U.S. covert black ops forces can even wirelessly hack a computer using advanced covert beam weapons and computers. This webmaster's PC has been routinely illegally hacked by the FBI SID, and this webmaster strongly suspects the FBI SID might have their sights set on some election tabulating computers and computer networks.

2012 Election Data
Washington Post 2012 Presidential Election Data.

Analyzing and Opposing Voter Suppression Election Theft Strategies
THE RIGHT TO VOTE UNDER ATTACK: The Campaign to Keep Millions of Americans from the Ballot Box, by People for the American Way. Their list of voter suppression tactics include
1. Photo ID laws
2. Ex Offender bans
3. Inhibiting Voter Registration
4. Flawed Purge Programs
5. Voter Caging
6. Voter Intimidation Tactics
7. Deceptive Practices
Also see the articles under investigating possible 2012 election theft.

Defending Voting Rights
The Nation 10/17/12 and 11/5/12: The Election Protection Coalition Gears Up for Battle.

News stories and reports about possible 2012 Election Theft
Increased PAC (Political Action Committee) election spending
PRWatch.org 11/2/12: Outside Election Spending Up 400% Since 2008.
Based on a Demos and US PIRG report: Election Spending 2012: A Pre-Election Analysis of Federal Election Commission Data.
Investigating Possible 2012 Election Theft
Common Dreams 9/6/12: Will the GOP Steal America's 2012 Election? by Harvey Wasserman and Bob Fitrakis.
Common Dreams 10/14/12: Will E-Voting Machines Owned by His Buddies Give Mitt Romney the White House? By Bob Fitrakis and Harvey Wasserman.
Common Dreams 10/20/12: Does Your E-Vote Now Belong to the Romney Family? By Bob Fitrakis and Harvey Wasserman and Gerry Bello
Free Press 10/31/12: Why we fight to prevent stolen elections in 2012 and beyond. A concise list of election theft problems and complaints from the perspective of left-wing investigators/researchers/muckrakers.
Christian Science Monitor 10/26/12: Could e-voting machines in Election 2012 be hacked? Yes.
Mother Jones 10/31/12: Texas, Iowa Threaten to Arrest Election Observers.
Decreased Media Exit Polling
Washington Post 10/4/12 blog: Networks, AP cancel exit polls in 19 states. Identified as a concern by BlackBoxVoting.org on 10/4/12.

News stories about possible 2008 Election Theft
Here are some earlier 2008 articles expressing concerns about possible 2008 U.S. election theft.
New York Times, 10/8/08: That's A Pretty Big Glitch, an editorial complaining about Diebold voting machines not properly counting all of the votes.
TIME magazine, 10/25/08: 7 things that could go wrong on election day.
Common Dreams, 10/28/08: Drinking the ACORN Kool-Aid: How Cries of Voter Fraud Cover Up GOP Elections Theft by Robert F. Kennedy Jr. and Greg Palast.
Talkingpointsmemo.com 10/29/08: Republican Voter Suppression: A Guide.
Washington Post, 10/30/08, page A1: In Ohio, Wary Eyes on Political Process. Fears of Fraud and Blocked Votes.
Washington Post, 10/30/08, page B1: Paper Ballot Has Md.'s, Va.'s Vote. 2 States Plan to Ditch Electronic Machines, Part of a Rapid National Reversal.
Common Dreams, 10/31/08: GOP Voter Suppression, More Miss Than Hit.
The Michigan Citizen, 10/31/08: GOP launches voter suppression campaign while accusing ACORN of irregularity.
The Miami Herald, 10/31/08: Many Voters Caught Unawares by Florida's 'No-Match' ID Law.

News stories about possible 2004 Election Theft
Here are 2 articles expressing concerns about possible 2004 U.S. election theft.
Rolling Stone, 6/1/06: Was the 2004 Election Stolen? by Robert F. Kennedy.
Robert F. Kennedy and Greg Palast write that "In 2004, highly organized GOP tacticians helped disenfranchise no less than 2.7 million American voters. Almost a million of them were African Americans."




Political Cartoons Against Election Theft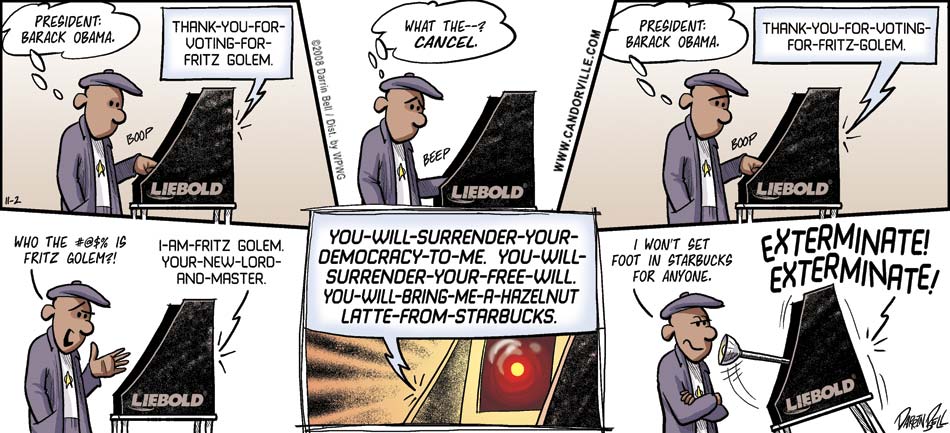 Source: Candorville.com. Published in Sunday comics on Nov. 2, 2008.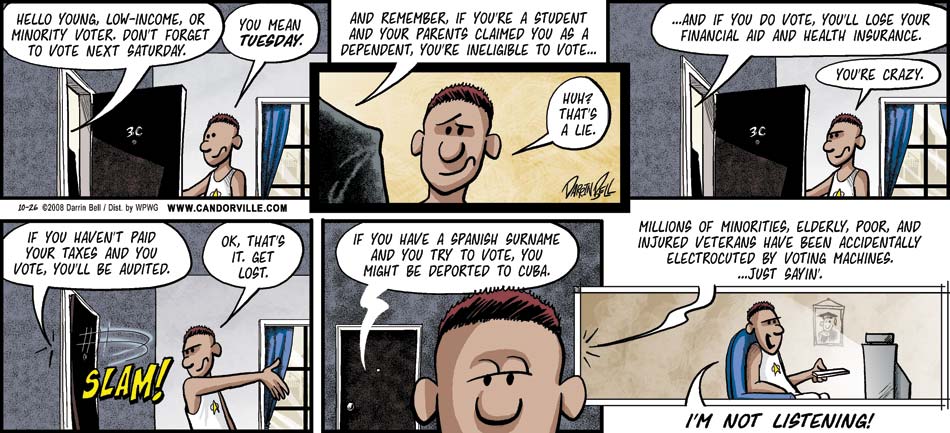 Source: Candorville.com. Published in Sunday comics on Oct. 26, 2008.